Regular price
$186.00
Sale price
$146.00
Unit price
per
Sale
Sold out
Help your houseplants thrive by watering at the optimal time
Features
🌿 Chimes when your plant needs water - Prevents plants from dying due to over and under watering.
🌿 Every Quench plays a unique tone - Just as every plant is unique, every Quench plays a unique chime to give each of your plants a unique voice. 
🌿 Blinks red at night - If your plant needs water during the night, Quench lights up red instead so will never disturb your sleep. Quench requires 1.5 days to "learn" your specific environment to determine when it will transition to night mode
🌿 Handy scale to set the correct depth for your plant - 
Water Loving Plants - Adjust Quench to level ~1,2 to ensure optimal watering
Dry Loving Plants - Adjust Quench to level ~3,4 to ensure optimal watering
🌿 Metal alloy sensors - Quench sensors are made from a metal alloy allowing unmatched soil moisture detection
🌿 Easily replaceable batteries last years - Quench batteries will last on average over 3 years. Quench will produce two beeps when the battery level becomes low. Replace with two inexpensive, common LR44 button batteries
🌿 Tips: 
SIZES - 
- Use Quench Regular for plant pots under 8-10 inches
- Use Quench Large for plant pots over 8-10 inches
POT - Use a plant pot with drainage to prevent overwatering of you plant in case you added too much water
SOIL - Use standard soil/peat based potting mixes to help ensure sensors have good physical contact with the soil
LIGHT - Don't place Quench in the middle of very dense foliage or Quench may have difficulty knowing when it is daytime and will only blink.  
 Package includes
6 x Quench Regular Moisture Meter with batteries
4 x Quench Large Moisture Meter with batteries 
Share
View full details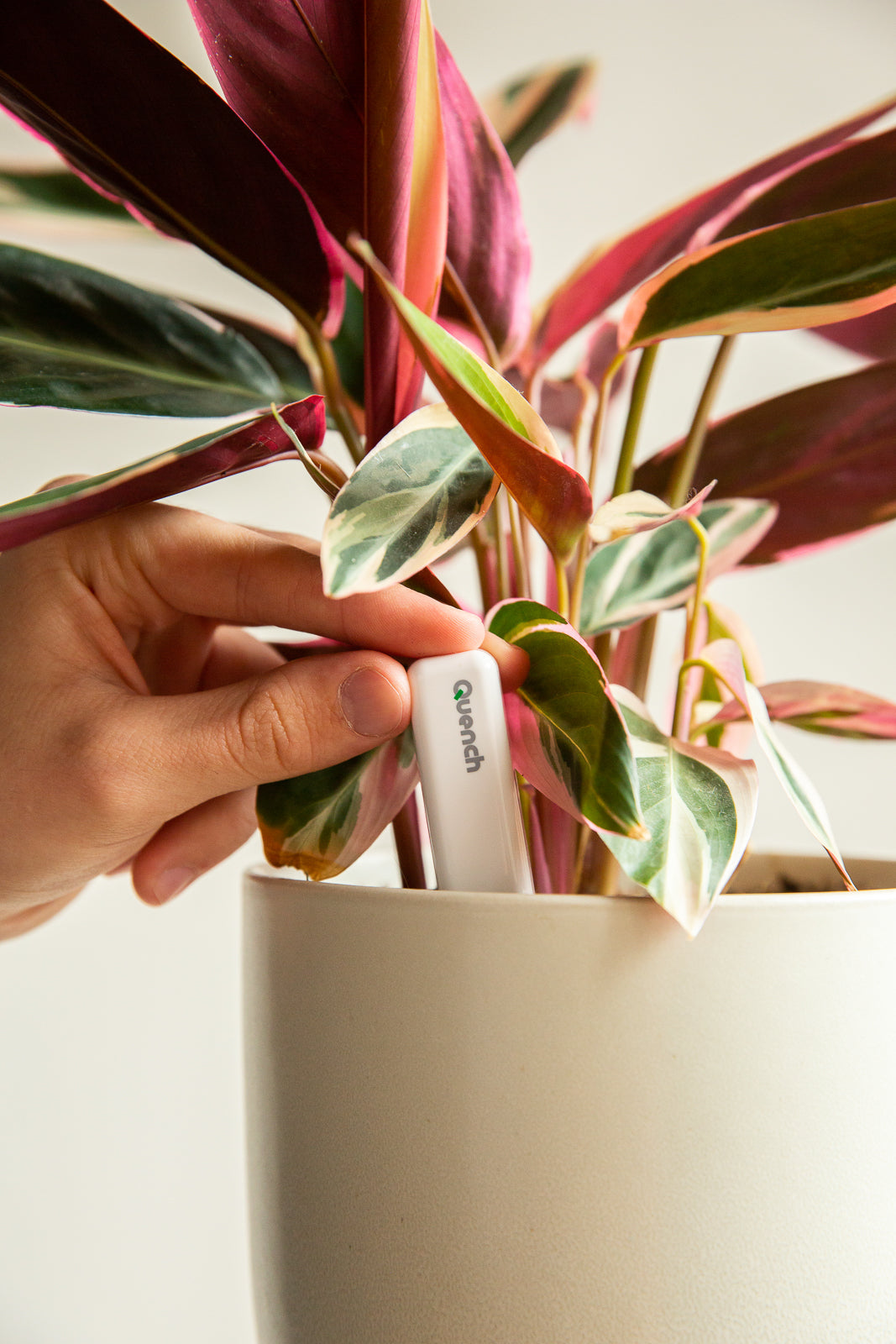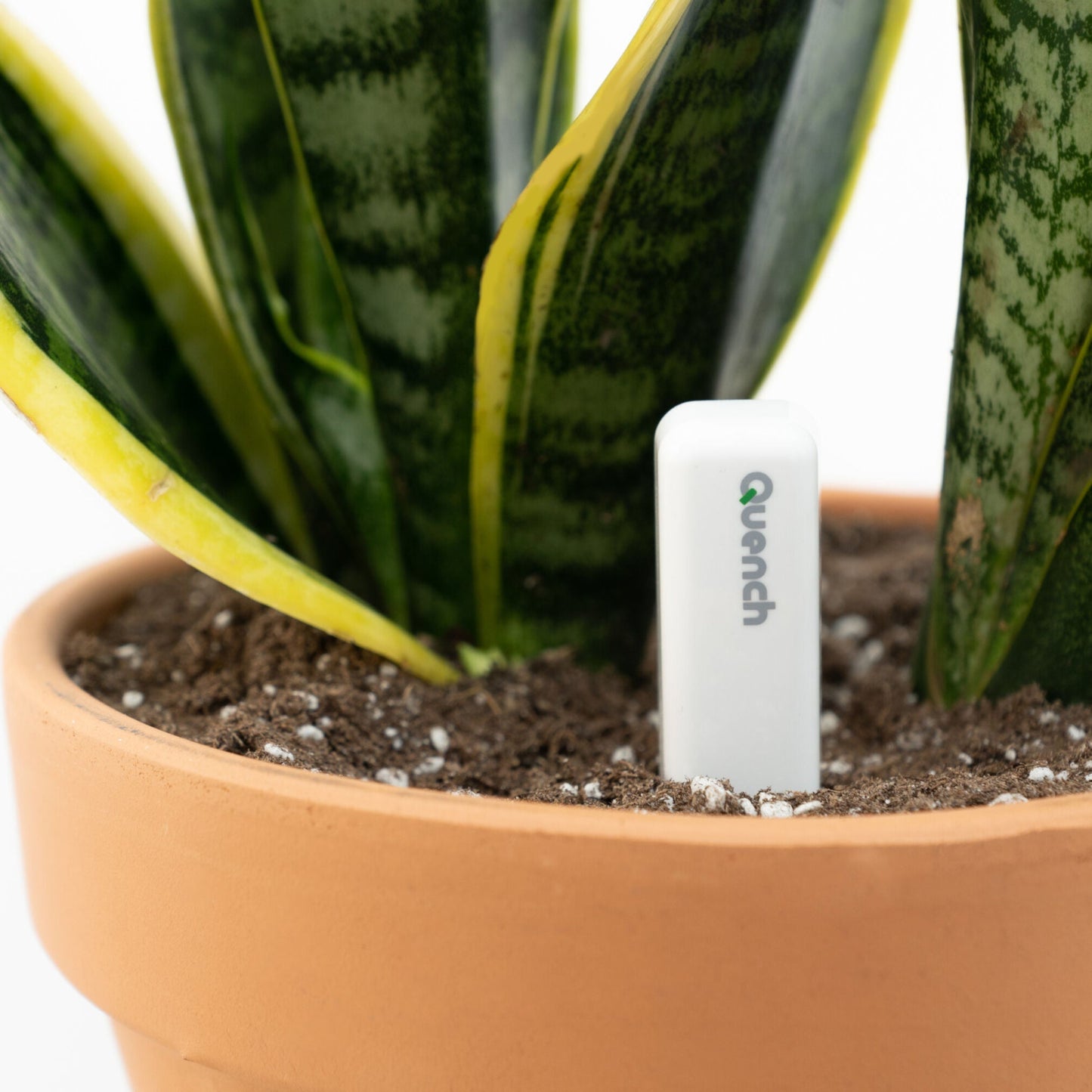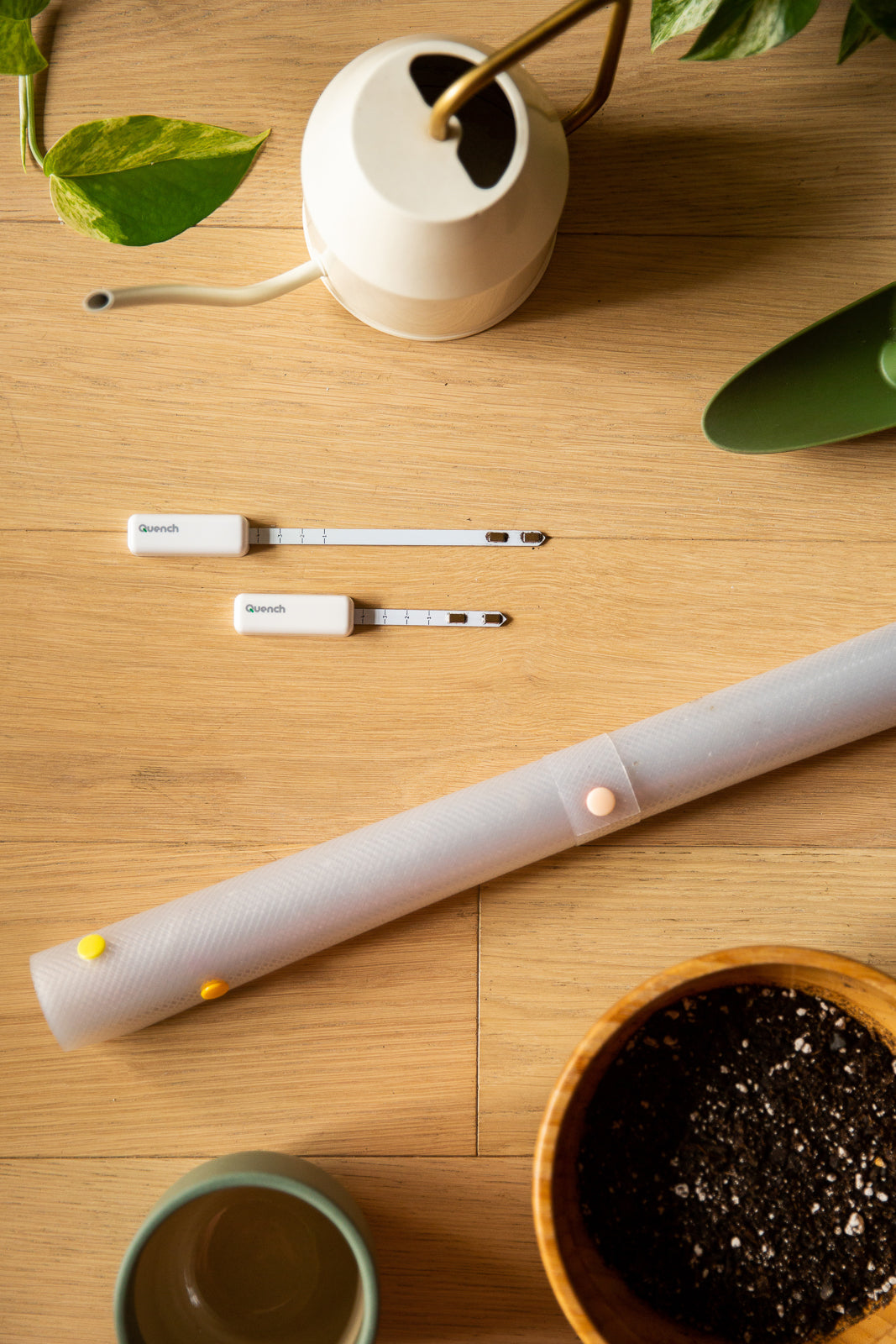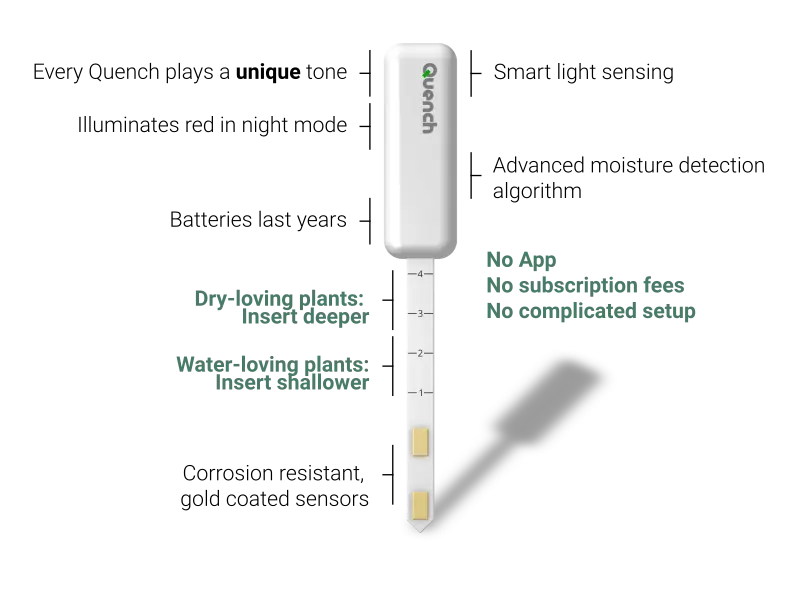 Never forget to water your plants again!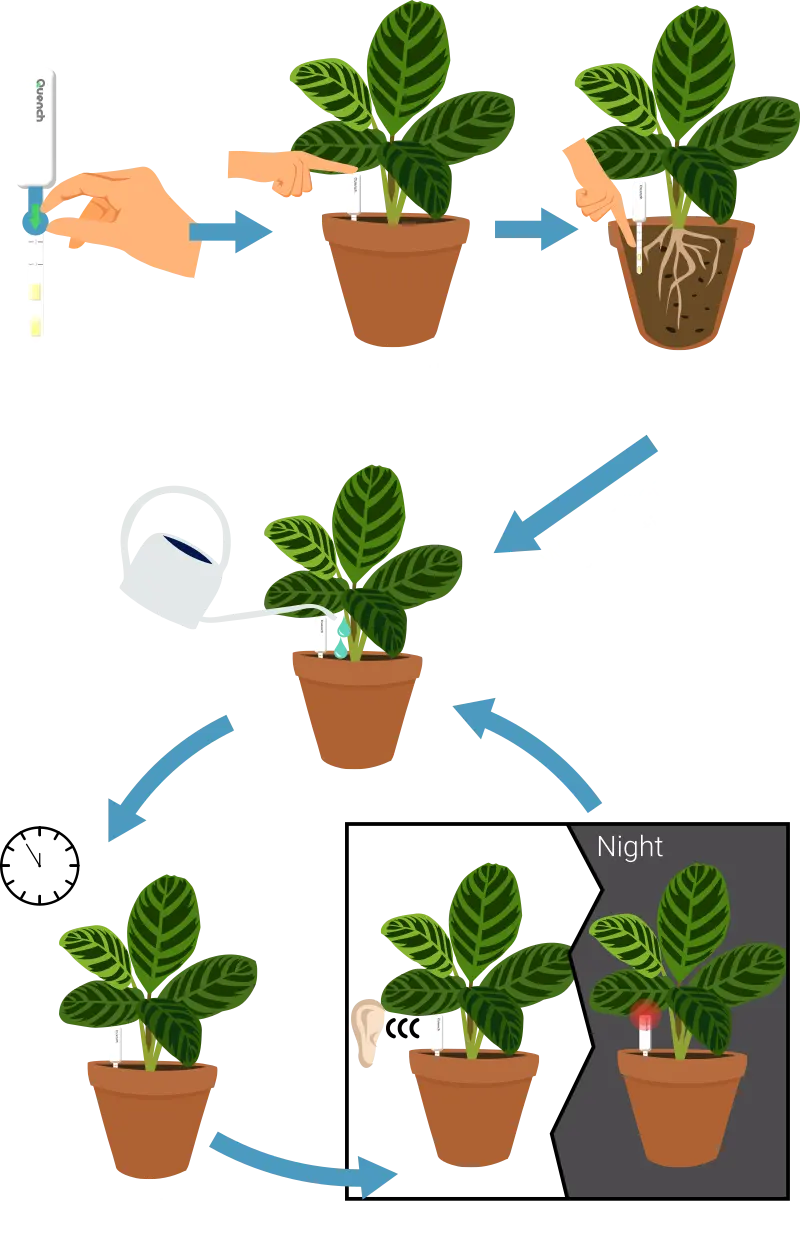 How To
1. Pull out the battery tab
2. Insert into your houseplant soil at the correct depth
3. Use your finger to compress the soil around the sensors to ensure good contact
4. Water your plant to further let the soil settle around the sensors
5. Wait until you hear Quench chime or see it blink at night and give your plant a thorough watering
Best Customer Service EVER
I had an issue with one of my Quench purchases and thought I would message the company. I got a response almost immediately with a video reply no less. I'm very impressed with the customer service and I love that I can keep my plants living longer because I don't forget to water them. I bought a large supply and I'm going to give them as a gift when I get asked out for dinner. One of them is chirping at me as I type lol
I love these
This totally helps me take care of my plants and understand when they need water. I was always over or under watering before, and now my plants are thriving.
It would be very cool if there were a Bluetooth component to this, to connect to your phone.
Is this thing on?
I haven't heard one peep from these things. Well, that looks to be a waste of 100 dollars.
So sad, I had to water them anyway.
Hi James!
I've had a few customers forget to pull the battery pull tab out so maybe they aren't on!
When you pull the tab out you should hear three chirps to know they turned on properly. Every Quench is tested before I package them and the only reason it wouldn't start is if the batteries happened to malfunction after they were packaged. This is really rare though and the batteries should last around 3 years. You can always test Quench to make sure they are working by pulling them out of the soil. Since air is 'dry' Quench should always alarm after removing them from the soil. Just wait about 10-20 seconds and they should chirp/blink depending on the light levels at the time. I have a few tips in the FAQ section for some more suggestions for if you think Quench is alarming too late.
The last thing I want is for anyone to think they wasted their money! Please let me know how things go so I can make sure Quench is working well for you like it does for our other Quenchers out there.
-Andy
Quench
So far I think the quench are pretty unique. I have them in all my fancy plants, such as my pink princess, white wizard, and so on. They are pretty good for that. I like them a lot. Thank you.
Seems to work great!
I have a few nit-picky plants, and it seems to be working well. I do wish there was a guide that said how deep to put the device